COVID-19 VACCINE EXEMPTIONS
Generally speaking, there are very few acceptable medical exemptions to the COVID-19 vaccination:
an allergist/immunologist-confirmed severe allergy or anaphylactic reaction to a previous dose of a COVID-19 vaccine or to any of its components that cannot be mitigated, or

a diagnosed episode of myocarditis/pericarditis after receipt of an mRNA vaccine.
PATIENT UPDATE
Dear Patients: 27 January, 2021
In the last few weeks, we have seen significant movement in our understanding of the COVID-19 vaccines. As always, we like to keep you informed of key information about COVID-19, so felt it was time for another information email. You will also find additional information about our clinics that will help you to make the time you spend interacting with us the most beneficial to you as possible.
It still remains to be seen as to whether it will be possible for COVID-19 vaccines to be made available in the offices of family physicians. In the event that we are able to play a role in vaccination, we commit to notifying you, well in advance, if and when you are able to access the COVID-19 vaccine from our office. We will ensure that our most vulnerable patients are contacted first.
If you go to a COVID-19 Assessment Centre for a test, your results will be forwarded to your doctor. Your doctor, however, will not receive these results any faster than they are made available to you by checking your swab results online.
As of today, here is what we know about the COVID-19 vaccines:
The vaccines are safe
The vaccines approved for use in Canada work by sending a message to our body's immune system to stimulate our natural immune response. Over 70,000 people were involved in the trials of the approved vaccines. The mRNA technology on which the vaccines are built started in the early 1990s, so this science is not actually new to us. As of January, more than 15 million people have been vaccinated worldwide.
The vaccines work
We know the vaccines protect us from getting COVID-19 and getting very sick from COVID-19. A 94%-95% efficacy level, as seen with the Pfizer-BioNTech and Moderna vaccines, is as good as the results of the best vaccines we have for preventing any disease. People who were vaccinated for the COVID-19 virus were about 20 times less likely to get sick with COVID-19 than those who were not vaccinated. They also likely prevent us from spreading COVID-19 to our loved ones and those around us, although studies are ongoing. This level of efficacy will play a major role in helping slow spread and move us toward a post-pandemic Canada.
There will be people ahead of us in line, and people behind us
Ontario's goal is to vaccinate every eligible person by the end of 2021. In general, older adults and others at high risk of getting sick or transmitting the virus will be vaccinated before others. It will take some time to vaccinate enough of our community members and achieve shared protection through herd immunity. During that time, it is crucial that we all continue to follow public health guidance regarding masking and distance, even after we are immunized – until experts say otherwise.
The pandemic is evolving, which emphasizes the need to maintain measures. There is also concerning news. Cases and hospitalizations from COVID-19 are rapidly rising throughout Ontario. There is a new strain of COVID-19 found in the United Kingdom, which is thought to be significantly more transmissible. The vaccines are a way out of Ontario's epidemic in the coming months, but they are not the only thing we must do.
Despite the vaccine news, the new strain and our case rates, our shared responsibility remains as important as it has ever been. Aside from getting vaccinated when our time comes, we must all still maintain our layers of protection. These layers mean physical distancing, masking at all times, good ventilation, hand hygiene and all of the steps we know work to protect us and our loved ones.
In summary, the vaccines are safe and effective. We will continue to monitor the vaccine landscape and provide you with the most relevant science-based information as soon as we have it available to us.
(The above vaccine information was shared, in part, by the Downey Family Medical Centre, Guelph with our thanks.)
Please visit our website for vaccine updates and to view an informative 15-minute video, "All About the COVID-19 Vaccines," presented by Dr Shaffaf & Dr Robinson of the Wawa Family Health Team.
You can find more information about the COVID-19 vaccine online via the Ontario Government/COVID-19 Vaccines or Wellington-Dufferin-Guelph Public Health.
Please read through these resources before calling our office regarding the vaccine. If, or when, there is planning for the vaccines to be given in our office, we will make you aware. Until that time, we are not keeping a waiting list. We are so glad to see the interest in the vaccine and will provide more details as we have them.
Emails
As one might expect, virtual care has generated a great deal of email traffic. This is a good thing because it can be an efficient way to communicate. There are some "rules", however, around emailing in health care. Following them will help to ensure that your needs are met and that our staff are able to respond efficiently and effectively to those needs.
Emailing/secure messaging does not happen in real time. Secure Messaging is a new channel that we are transitioning to in order to provide an extra layer of information security. It is no faster than regular email. We have 12,400 patients and email consent for around 8,000. This means that hundreds of emails are processed daily. Turnaround time for email response is up to 2 days. Please do not use email or secure messaging for your time-sensitive needs. Please call the clinic instead. Our new phone system is now up and running and it has significantly reduced telephone wait times.
Some things that email/secure messaging is NOT to be used for:
• Emergencies or when information is needed urgently (please call the office)
• Requesting medical advice for anyone other than yourself
• Exchanging sensitive medical information
• Complex medical issues
• Requesting a diagnosis based on a description of symptoms
• Frivolous or commercial purposes
This is what you will see when you receive a secure message from the office: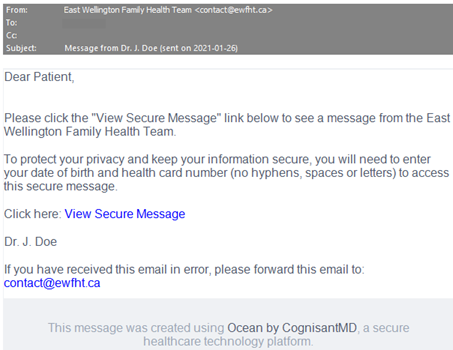 For the most up-to-date information about our COVID-19 response and clinic operations and changes, and to take advantage of online booking and video visits, we do require your email consent. It's quick and easy to do at Patient Email Consent
Walk-ins
We are not resourced to provide walk-in clinic services. Now, during the pandemic, it is particularly concerning to have people enter our clinics when they do not have an appointment we have been able to prepare for. Many physicians are working remotely, using virtual care options, and the physicians in the clinic have fully booked schedules. Calling the clinic, as opposed to walking in, will assist us in keeping our clinics safe for the patients that MUST come in, and also help us to assist you with your needs in the safest way possible.
When clinic schedules are full
There are a number of outside services that will see people for acute needs, on a "walk-in" basis, and some of these services use virtual care so you can be "seen" without leaving your home. For an updated list of these services, please go to After Hours care.

Online booking
Online booking is now available for all 10 of our physicians when booking phone or video visits. Now, at any time of day, you can book an appointment with your doctor. To book a video visit we do need your email consent, so please be sure to do that first.
Virtual visits vs. in-person visits
Our patients and our clinicians have been pleasantly surprised at how effective phone and video care is. Feedback from our doctors indicate that they are able to confidently and reliably attend to the majority of care needs without compromising the health and safety of patients or staff by having them needlessly come into the clinics. Our patients report back that they appreciate that they are able to see their doctor or other clinician from the safety of their home, that it requires less time out of their day, and is not dependent on good weather in the winter months. Our mantra is "virtual first" as directed by Ontario Health. Please rest assured that this is NOT sub-standard care. If your clinician "sees" you virtually and determines that your condition requires an in-person visit, you will be booked for one.
On behalf of all of us at the East Wellington Family Health Team, our most sincere thanks for your patience and cooperation as we work together to ensure that your health care needs are met, while adhering to the public health directives necessary to keep us all safe.
Wishing you and your loved ones good health.
Sincerely,
Kim Bell
Executive Director
East Wellington Family Health Team