COVID-19 VACCINE EXEMPTIONS
Generally speaking, there are very few acceptable medical exemptions to the COVID-19 vaccination:
an allergist/immunologist-confirmed severe allergy or anaphylactic reaction to a previous dose of a COVID-19 vaccine or to any of its components that cannot be mitigated, or

a diagnosed episode of myocarditis/pericarditis after receipt of an mRNA vaccine.
PATIENT UPDATE


Dear Patients: 27 January, 2021
In the last few weeks, we have seen significant movement in our understanding of the COVID-19 vaccines. As always, we like to keep you informed of key information about COVID-19, so felt it was time for another information email. You will also find additional information about our clinics that will help you to make the time you spend interacting with us the most beneficial to you as possible.
It still remains to be seen as to whether it will be possible for COVID-19 vaccines to be made available in the offices of family physicians. In the event that we are able to play a role in vaccination, we commit to notifying you, well in advance, if and when you are able to access the COVID-19 vaccine from our office. We will ensure that our most vulnerable patients are contacted first.
If you go to a COVID-19 Assessment Centre for a test, your results will be forwarded to your doctor. Your doctor, however, will not receive these results any faster than they are made available to you by checking your swab results online.
As of today, here is what we know about the COVID-19 vaccines:
The vaccines are safe
The vaccines approved for use in Canada work by sending a message to our body's immune system to stimulate our natural immune response. Over 70,000 people were involved in the trials of the approved vaccines. The mRNA technology on which the vaccines are built started in the early 1990s, so this science is not actually new to us. As of January, more than 15 million people have been vaccinated worldwide.
The vaccines work
We know the vaccines protect us from getting COVID-19 and getting very sick from COVID-19. A 94%-95% efficacy level, as seen with the Pfizer-BioNTech and Moderna vaccines, is as good as the results of the best vaccines we have for preventing any disease. People who were vaccinated for the COVID-19 virus were about 20 times less likely to get sick with COVID-19 than those who were not vaccinated. They also likely prevent us from spreading COVID-19 to our loved ones and those around us, although studies are ongoing. This level of efficacy will play a major role in helping slow spread and move us toward a post-pandemic Canada.
There will be people ahead of us in line, and people behind us
Ontario's goal is to vaccinate every eligible person by the end of 2021. In general, older adults and others at high risk of getting sick or transmitting the virus will be vaccinated before others. It will take some time to vaccinate enough of our community members and achieve shared protection through herd immunity. During that time, it is crucial that we all continue to follow public health guidance regarding masking and distance, even after we are immunized – until experts say otherwise.
The pandemic is evolving, which emphasizes the need to maintain measures. There is also concerning news. Cases and hospitalizations from COVID-19 are rapidly rising throughout Ontario. There is a new strain of COVID-19 found in the United Kingdom, which is thought to be significantly more transmissible. The vaccines are a way out of Ontario's epidemic in the coming months, but they are not the only thing we must do.
Despite the vaccine news, the new strain and our case rates, our shared responsibility remains as important as it has ever been. Aside from getting vaccinated when our time comes, we must all still maintain our layers of protection. These layers mean physical distancing, masking at all times, good ventilation, hand hygiene and all of the steps we know work to protect us and our loved ones.
In summary, the vaccines are safe and effective. We will continue to monitor the vaccine landscape and provide you with the most relevant science-based information as soon as we have it available to us.
(The above vaccine information was shared, in part, by the Downey Family Medical Centre, Guelph with our thanks.)
Please visit our website for vaccine updates and to view an informative 15-minute video, "All About the COVID-19 Vaccines," presented by Dr Shaffaf & Dr Robinson of the Wawa Family Health Team.
You can find more information about the COVID-19 vaccine online via the Ontario Government/COVID-19 Vaccines or Wellington-Dufferin-Guelph Public Health.
Please read through these resources before calling our office regarding the vaccine. If, or when, there is planning for the vaccines to be given in our office, we will make you aware. Until that time, we are not keeping a waiting list. We are so glad to see the interest in the vaccine and will provide more details as we have them.
Emails
As one might expect, virtual care has generated a great deal of email traffic. This is a good thing because it can be an efficient way to communicate. There are some "rules", however, around emailing in health care. Following them will help to ensure that your needs are met and that our staff are able to respond efficiently and effectively to those needs.
Emailing/secure messaging does not happen in real time. Secure Messaging is a new channel that we are transitioning to in order to provide an extra layer of information security. It is no faster than regular email. We have 12,400 patients and email consent for around 8,000. This means that hundreds of emails are processed daily. Turnaround time for email response is up to 2 days. Please do not use email or secure messaging for your time-sensitive needs. Please call the clinic instead. Our new phone system is now up and running and it has significantly reduced telephone wait times.
Some things that email/secure messaging is NOT to be used for:
• Emergencies or when information is needed urgently (please call the office)
• Requesting medical advice for anyone other than yourself
• Exchanging sensitive medical information
• Complex medical issues
• Requesting a diagnosis based on a description of symptoms
• Frivolous or commercial purposes
This is what you will see when you receive a secure message from the office: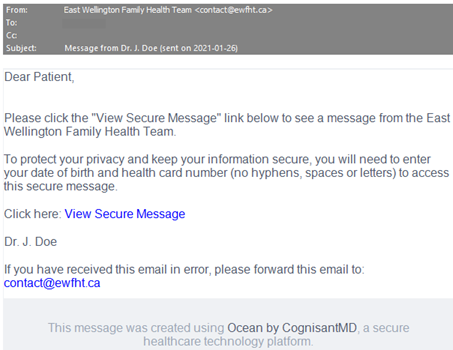 For the most up-to-date information about our COVID-19 response and clinic operations and changes, and to take advantage of online booking and video visits, we do require your email consent. It's quick and easy to do at Patient Email Consent
Walk-ins
We are not resourced to provide walk-in clinic services. Now, during the pandemic, it is particularly concerning to have people enter our clinics when they do not have an appointment we have been able to prepare for. Many physicians are working remotely, using virtual care options, and the physicians in the clinic have fully booked schedules. Calling the clinic, as opposed to walking in, will assist us in keeping our clinics safe for the patients that MUST come in, and also help us to assist you with your needs in the safest way possible.
When clinic schedules are full
There are a number of outside services that will see people for acute needs, on a "walk-in" basis, and some of these services use virtual care so you can be "seen" without leaving your home. For an updated list of these services, please go to After Hours care.

Online booking
Online booking is now available for all 10 of our physicians when booking phone or video visits. Now, at any time of day, you can book an appointment with your doctor. To book a video visit we do need your email consent, so please be sure to do that first.
Virtual visits vs. in-person visits
Our patients and our clinicians have been pleasantly surprised at how effective phone and video care is. Feedback from our doctors indicate that they are able to confidently and reliably attend to the majority of care needs without compromising the health and safety of patients or staff by having them needlessly come into the clinics. Our patients report back that they appreciate that they are able to see their doctor or other clinician from the safety of their home, that it requires less time out of their day, and is not dependent on good weather in the winter months. Our mantra is "virtual first" as directed by Ontario Health. Please rest assured that this is NOT sub-standard care. If your clinician "sees" you virtually and determines that your condition requires an in-person visit, you will be booked for one.
On behalf of all of us at the East Wellington Family Health Team, our most sincere thanks for your patience and cooperation as we work together to ensure that your health care needs are met, while adhering to the public health directives necessary to keep us all safe.
Wishing you and your loved ones good health.
Sincerely,
Kim Bell
Executive Director
East Wellington Family Health Team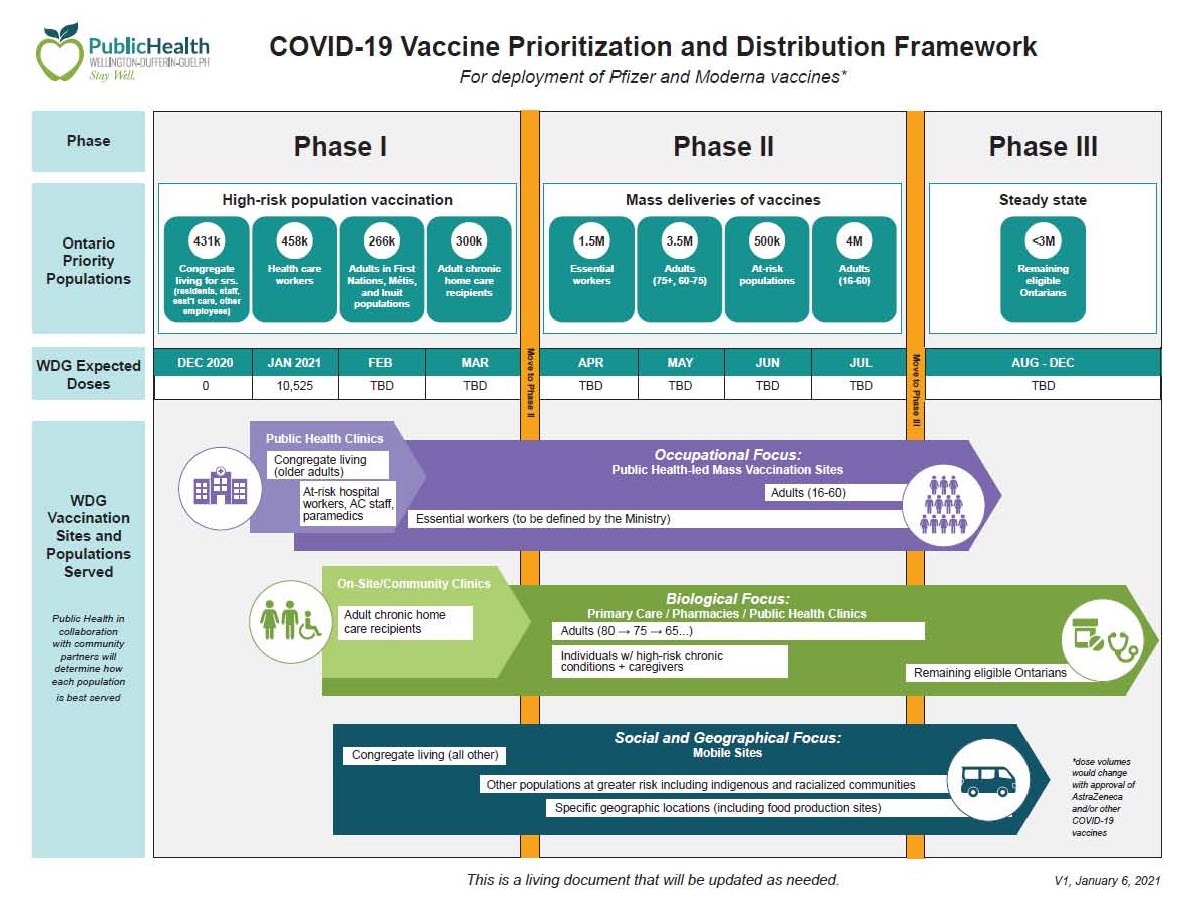 Dear Patients: 22 December, 2020
As many of you have heard, on December 9th, Health Canada approved the use of a COVID-19 vaccine for use in Canada. There have been many inquiries from the community about when patients will be able to immunize against COVID-19.
It is important to recognize that there are many logistics involved with national immunization including supply, transport, storage, and staffing to name a few.
Below is an overview of Ontario's Covid-19 Vaccination Plan which will roll out in 3 phases: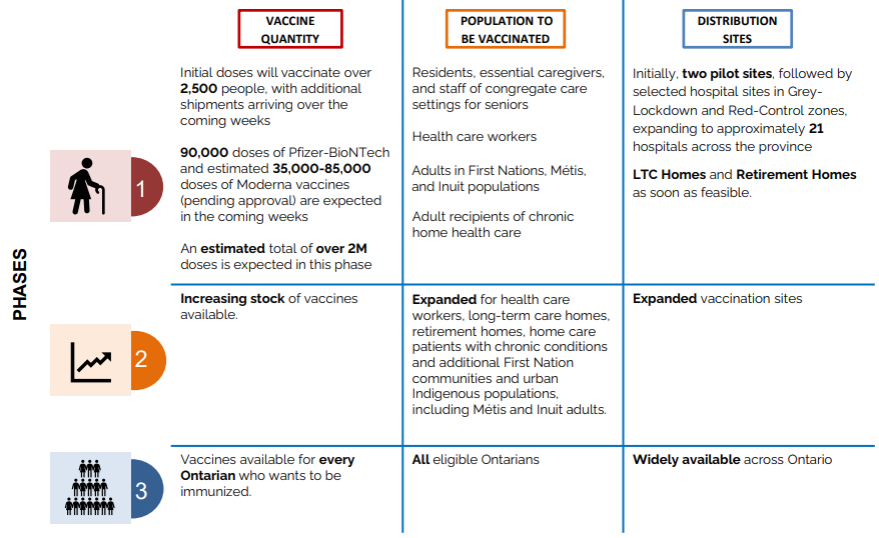 We have not yet been notified about specific immunization points in our area and it is not yet clear whether the COVID-19 vaccine will be made available in family doctors' offices. For this reason, until we receive more information, we will not be scheduling immunization clinics, nor keeping wait lists for vaccines.
The above plan is structured to immunize our most vulnerable people first as well as fortify our health care system so that it can continue to care for the sick. As you can see from the above information, it will take some time before the vaccine will be made available at the community level. When we have more information, provided by Ontario Health, we will be reaching out to our patients via telephone, email, and newspaper ads to ensure that you have access to the information you need regarding COVID-19 immunization.
Many thanks for your patience as we work through this together.
Best wishes for a safe and happy holiday season!
East Wellington Family Health Team
Dear Patients 30 September, 2020
We know you are tired. Tired of being careful, of wearing masks, of not being able to hug your nearest and dearest, of limits and restrictions and rules. We understand and our staff are here to help you to continue receiving excellent health care, despite the circumstances.
In our partnership with you, our patients, we ask you also to please be mindful of the way you communicate with our staff. We are also weary and remember that a little kindness goes a long way. These are unprecedented times and our staff approach their work every day, with smiles on their faces, trying to do their level best for patients. No one wants to tell you that we don't have an available appointment for you. No one wants to keep you on hold while attending to others. Staff are problem-solving every day to find ways around situations that are beyond our control. Our staff are balancing multiple and competing needs that cannot be seen by the general public, while masking, cleaning, advising, screening, instructing, responding. We have heard stories of gratitude from many of you who recognize when our staff go above and beyond to ensure that your needs are met. You make such a difference in our days when you stop to tell us that our efforts are appreciated. Thank you. We just kindly ask that when things are not working you please try to address situations in a kind and respectful manner and refrain from personal attacks. We ARE in this together.
There are some things we would like you to know in order for our work together to be most effective:
Flu shots – We do not determine the amount of vaccine we receive every season. Each Public Health unit determines allocations based on the amount of serum they receive from the Ontario Ministry of Health. We start with a baseline expectation of numbers, based on previous years, and plan accordingly, increasing the number of flu shot clinics we can offer as more becomes known about how much vaccine we will receive. This year, Covid precautions have significantly reduced the number of appointments we are able to offer, simply because we need to space them out to allow for distancing and sanitizing. A flu shot clinic that would have normally accommodated 33 patients, can now only accommodate 15.
Regular flu shot seasons are a community responsibility. Flu shots are largely administered by Public Health, Family Doctors' offices, and Pharmacists. This year, flu season is co-occurring with Covid-19 and everyone is being urged by public health officials to get their flu shot. This is good advice, however, it has created a demand higher than we have ever seen and the vaccine supply is still unknown. This year, even those who have never had flu shots before, are feeling a sense of urgency to get one this year and we understand this.
Our clinical team has put in place a schedule of 24 flu shot clinics, serving almost 300 patients. In less than 48 hours, we received over 500 emails from patients requesting flu shot appointments in addition to a flurry of phone calls. Again, we understand. You are acting on good public health advice and are frustrated when this need cannot be immediately met, especially when you were diligent about replying to our email as soon as you receive it. Please know that, by 6:30am the following morning, staff began to contact patients in the order that emails and phone calls were received, and in a very short time all available appointments were booked. We prioritized our patients aged 65+, as well as those with complex health conditions, and scheduled them into the high dose clinics. Please rest assured that we are doing everything we can to make flu shots available to as many as we can. We have additional clinics planned and ready for that moment when we are made aware of the number of vaccines we can expect to receive. If you have not heard back about your request for a flu shot, you do not have a flu shot appointment booked because we have run out. We urge you to pursue the other options – pharmacies and public health flu shot clinics. Statistics show that last year, more Ontarians received their flu shots at pharmacies than their family doctors' offices. This is a safe and efficient way of ensuring that you are protected in a timely manner. If you have been advised that you should get a high dose flu shot, please know that last year and this year, the provincial availability of this serum was significantly limited. Public Health advises that you are better off receiving the regular dose flu shot than waiting a length of time for the high dose. Primary care is to receive flu vaccine after all long term care facilities, all hospitals, and pharmacies have received their requested supply.
Access to care – the EWFHT has not closed its doors, even for one day, throughout the pandemic. As per the Ministry of Health directive, we have limited in-person care to "essential needs". If you are given a virtual appointment – video or phone – this does not mean that your need was not seen as important but that your skilled clinician has determined that your needs can be met through a mode different than in-person care and still meet the professional standards of health care. In-person appointments are reserved for those with needs that cannot be met virtually. We have continued to provide in-person care for routine cancer screening, well-baby/child check-ups, regular and catch-up vaccine clinics and acute needs that require a physical exam.
Administrative access – we have paid close attention to the many complaints we have received about our phone system and we agree with you. The needs of our team and our patients has outgrown its capacity. To this end, our goal this year was to implement a new, organization-wide phone system which should significantly improve patient access to our office staff. For the past year, our staff have been working on the plans for this new system and we are anticipating implementation by the end of October. Please be patient. We want to be there for you when you call and we're working on it.
Masks – we understand that this is a topic of controversy. For those working in health care, however, it is not. Not only are we well-schooled in the benefits of wearing masks during a pandemic, we have no choice. We are mandated by public health to wear masks, in addition to other protective material, and to require anyone on our premises to wear one. It will serve no purpose to challenge staff about your right to refrain from wearing a mask, as we are legally mandated to ensure that all people visiting our sites wear one. ONLY patients who are exempt from wearing one for valid medical reasons, will be permitted to enter our premises without a mask. These individuals, however, are encouraged to wear a face shield and we can provide you with one. All others are invited to wear your own washable mask or, if you do not have one, we will provide one. If you are opposed to masking for reasons other than medical, you may still access your doctor by booking a virtual appointment.
Blood work – the pandemic has significantly affected the way we are able to book appointments. In trying to minimize the number of people in our clinics at one time, we have had to direct patients to outside services for certain things. We have a small lab, staffed part-time by our EWFHT nurses as opposed to the full-time community labs located all over Ontario. In order to ensure that our nurses' time is spent on some of the most critical needs – wound care, school immunizations, baby and child check-ups, stitch and staple removal, etc. – we are directing patients to get blood work that they would ordinarily have done with us, to the community labs. This is what is meant by the term "triage" – that we utilize our resources in a way that serves the highest needs first.
Covid symptoms in the schools – we understand that many of you have jobs to do and your ability to work is greatly impacted by whether or not your children can attend school. Please be advised that our physicians will not be providing return to school notes. Covid-19 cannot be ruled out without appropriate testing. If your child has symptoms of Covid-19, physicians at EWFHT strongly advise that you follow the Public Health Self Isolation Guidelines and proceed with your child to a COVID Assessment Centre to be tested, or isolate for the 14 day period. Please note, Public Health guidelines regarding pandemic guidelines can be accessed at https://wdgpublichealth.ca/your-health/covid-19-information-schools-parents-and-teachers/schools
Public health rules – I have seen a quote by an Ontario nurse, working in an ICU during Covid. She said, (and I paraphrase) "I am not a frontline worker. I am the last line of defense. The frontline is the public. Every choice you make about your response to public health directives is what has the greatest power to tackle Covid-19. I am providing care to people at their sickest. You have the potential to prevent sickness". For those growing weary of Covid restrictions, know that you have the power to make this a shorter fight. We can do this.
If you have questions or concerns about anything contained in this letter, please contact us at info@ewfht.ca. Thank you for your help and cooperation. We have no doubt that if we all support each other, we will get through this trying time. Stay safe and be well.
Sincerely,
Kim Bell, Executive Director