Learn To Manage Osteoarthritis - 3 Sessions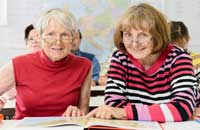 class details

Tuesday October 8th, October 15th & October 22nd
Time: 10:00am – 12:00pm
Presented by: Susan McAuslan, Physiotherapist
From "The Arthritis Society"
Guest Speakers: Robin Brown, Pharmacist
& Paula Seifried, Dietitian
Offered Via the Ontario Telemedicine Network
Learn to Manage Your Osteoarthritis is FREE OF CHARGE and open to patients and community residents.
Space is limited! You must pre-register, either online below or by calling: 519-833-7576 ext 362
* Must be 18 or older to attend
*Please arrive 10 minutes early to get seated - thank you


This class is not currently offered - please check back soon!