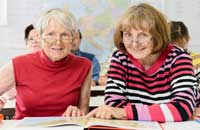 Community Services
Program Details
(
Back to Programs
)
Includes:
Outreach - Rural Wellington Community Team
East Wellington Community Services
Hospice and Palliative Care
Home and Community Care
Long-Term Care Homes - Waterloo Wellington
Outreach - Rural Wellington Community Team
The Rural Wellington Community Team understands that it's hard to reach out and find the resources you need when you need them.
We work in the community and with each rural health team to connect you to community agencies, help you to navigate social programs, and support you when family or friends can't help.
We know that there are many factors in your life that can affect your health.
When people have support, they live healthier lives.
The East Wellington Family Health Team has an Outreach Worker available to help you with those connections. Care Coordinators with the Canadian Mental Health Association (CMHA-WW) and the Waterloo Wellington LHIN-Home and Community Care (WW-LHIN) work together with the Outreach Worker to support you with other services they provide. Call/text our Outreach Worker at 226-820-1120 for more information.
East Wellington Community Services
East Wellington Community Services serves hundreds of community members by providing hunger and illness relief services, counseling, transportation assistance, recreational programs. and many other forms of much-needed aid to improve their quality of life.
Hospice & Palliative Care
Hospice Wellington provides a multitude of services to support those individuals of Wellington County living with a life-limiting illness. These programs extend to the families and caregivers supporting those diagnosed with a life-limiting illness. Hospice Wellington also offers grief and bereavement supports to individuals who have lost a loved one. Services are provided as support groups or one-to-one companionship.
Click Here to visit Hospice Wellington
Home & Community Care
Waterloo Wellington LHIN works with people of all ages to ensure they can make informed choices about their care, when and where they need it.
Click Here to visit Waterloo Wellington LHIN
Long-Term Care Homes - Waterloo Wellington
Long-term care homes care for people with significant health challenges and cognitive impairment who need 24-hour access to nursing care and supervision. While homes are publicly funded by the government to provide primary health care and nursing care, support with the activities of daily living, a variety of therapies and activities, and special diets residents also pay a fee for their accommodation. Long-term care homes are also known as Homes for the Aged or Nursing Homes.
Information about and admission to long-term care homes is provided by Home and Community Care – LHIN